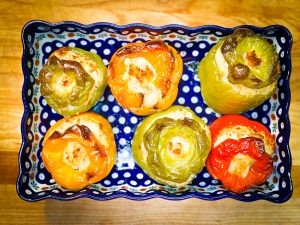 Ingredients:
6 peppers (more colors better J 2 red, 2 green, and 2 yellow)
2 cups of cooked rice (~2/3 cup of dry rice)
2 lb. of grounded turkey meat
2 tbsp olive oil
2 medium onions chopped
4 garlic cloves minced
a pinch of hot pepper
salt and pepper to taste
1 cup shredded mozzarella
Parsley for garnish
Preheat oven to 350°.
In a small pan, cook rice according to package instructions.
In a large skillet over medium heat, heat 2 tbsp of olive oil. Cook onion until soft, about 7-10 minutes. Stir in garlic and cook for about 2 minutes more. Add ground turkey and cook, breaking up meat with a wooden spoon, until no longer pink, 12-15 minutes.
In a large mixing bowl mix cooked meat with cooked rice. Season with hot pepper, salt, and black pepper.
Wash each bell pepper thoroughly, then place each one vertically on a wooden board and cut it horizontally (approx. ½" – 3/4" from the top of each pepper). Remove all seeds.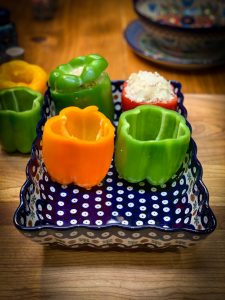 Place peppers cut side-up in a baking dish (I used 12″x8″ CA baker) and drizzle with oil. Spoon turkey mixture into each pepper. Cover baking dish with aluminum foil.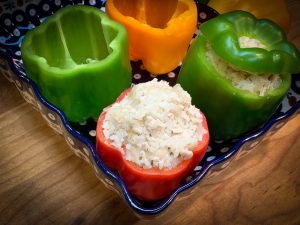 Bake until peppers are tender, about 35 minutes. Remove from oven and top with mozzarella. Return to the oven (without aluminum foil) and bake until cheese is bubbly, 10 minutes more.
Garnish with parsley if desired.
Smacznego 🙂