In the hustle and bustle of our daily lives, the morning rush can often leave us with little time for a nutritious breakfast. But fear not! With some smart planning, Polish pottery that helps you cook and consume your breakfast with ease, and a trusty coffee maker and favorite coffee mug, you can enjoy a wholesome breakfast and still make it out the door on time.  Here are some tips for quick and beautiful breakfasts with Polish stoneware: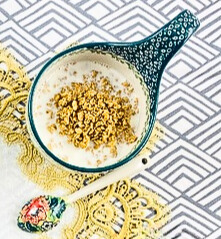 Overnight Oats:
This simple and nutritious option allows you to prepare your breakfast the night before. Mix rolled oats with your choice of milk or yogurt, add some fruits, nuts or nut butter, drizzle some goodness from the honey jar, and then refrigerate overnight in a Polish pottery tumbler. In the morning, it'll be ready to go, can easily fit in a drink holder, and will stay just the right temperature for your whole commute.
Easy Breakfast Sandwiches:
Toast up some whole-grain bread or an English muffin, and put them out in a toast holder with some options nearby like cold cuts, cheese, mustard, pickles and tomato slices or sprouts, and a ready-to-spread French butter dish.  Family members can pick and choose to create portable, savory, protein-packed breakfasts that will keep them energized throughout the busy morning.
Greek Yogurt Parfait:
Layer Greek yogurt with granola, seeds and nuts, and fresh berries in a loop-handled mug. It's easy to hold with one hand as you're juggling bags, backpacks, etc., and provides a balanced breakfast with protein, fiber, and a burst of fruity flavor. Grab a spoon, and you're good to go.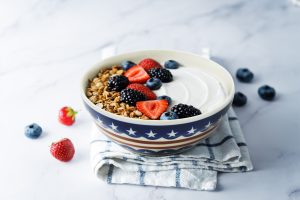 Homemade Breakfast Burritos:
Feeding a crowd and want a mess-free option? Prepare a batch of breakfast burritos in advance, wrap them individually in parchment paper, and freeze them together inside a Polish pottery baker. The night before, leave the baker out to thaw, and in the morning, you can microwave or reheat the whole bunch for a hearty breakfast everyone will appreciate.  For family members who are scant on time, these are the perfect size to grab and enjoy on the run.
Last, but not Least:  Home-brewed Coffee in a Sustainable, Reuseable Polish Pottery Mug:
For those of us who need a little extra boost, making your coffee at home is not only a cost-effective habit but also enjoyable and incredibly time-efficient. It just makes sense:
No More Coffee Shop Lines: Skipping them can save you valuable minutes and frustration. With your coffee maker at home, you can brew a fresh cup right into your favorite beautiful mug, letting the aroma lift your spirits while you prepare your breakfast.
Customized Brew in a Mug you Look forward to Using: Brewing at home allows you to control the strength and flavor of your coffee and tea, the cost, and the container. No more guessing games about how much sugar is being added to your drink.  You can dip into the sugar bowl as little as you want and you can choose a mug that's the perfect size and shape for the kind of coffee you like, whether it's a "latte or a little".  If you prefer a shot of espresso, elevate your morning with the most beautiful and adorable European stoneware espresso cup and down it like the Italians do!  If you just prefer some extra warmth and comfort to your morning, clutch your travel mug close to your heart and take your java with you.❤️
Healthy and quick breakfast options are essential for a busy lifestyle.  By embracing these time-saving habits and durable and sustainable hand-painted stoneware products, you can set the stage for a productive and cheerful day!