Dorothy Rosa (Durkee) -– Blog Contribution –  June 2013
As much as we'd all love to have vast and varied collections of Polish Pottery, there are practical limits to our collecting –- limits of space to display or store our treasures, of funds with which to purchase them, and of time to manage it all.  So the questions naturally arise, What to buy? When to buy? And where to buy?
This month, we'll offer some suggestions about What to buy; next month, When to buy; and in July, Where to buy. After that, we'll cover a variety of topics of interest to Polish Pottery collectors, including Creative Tablescaping, Mixing and Matching Patterns, All You Need to Know about Shopping for Polish Pottery – in Boleslawiec and Beyond, and How I Found The Courage to Take My Polish Pottery out of the Cabinet and Actually USE It.
What To Buy?
Experienced collectors know what they like. Some collect just one pattern, others a primary pattern with accent pieces in another (or two, or ten). There are those who collect by color (blue and white, for example) or theme (butterflies, birds, flashy florals). Still others choose to "mix and match," meticulously blending diverse colors and themes in elegant tablescapes. I favor an eclectic mix, offering up to my guests combinations of patterns more or less willy-nilly, something the forgiving nature of Polish Pottery designs readily permits.
Cherished for its artistry, utility, and durability, Polish Pottery from Boleslawiec is also valued for its ability to "play well with others." Shown here: three different patterns from two manufacturers playing very nicely indeed (top to bottom: WR #AW1, Polmedia P1847A ;WR #EZ3, Polmedia #P3936A; and the hard-to-find "Klara" pattern from Vena.All three are Traditional patterns.)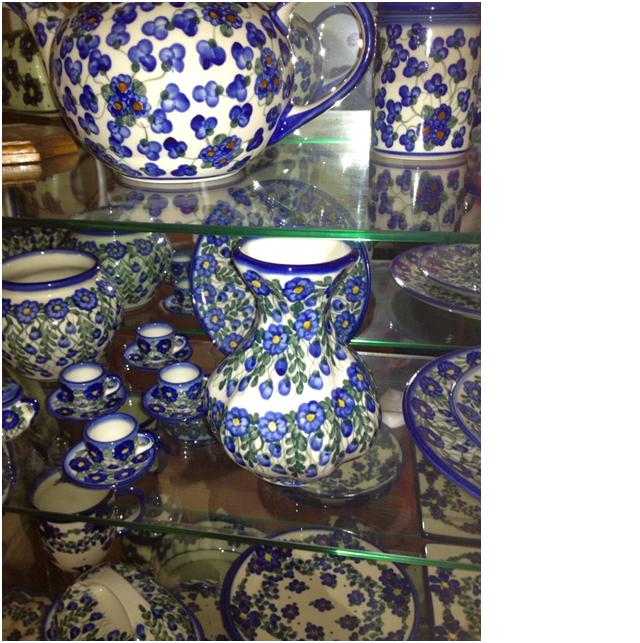 Faced with choosing from nearly 5000 patterns, new collectors can simplify the selection process by trying out different patterns and "looks" by buying a small piece -– a luncheon plate, for example — in each of the patterns they like. When beginning collectors ask, I suggest, "Buy the one that moves you, but be open to change." Properly nourished, our vision expands.
The question of whether to buy "Unikat" (unique, hand-signed and hand-decorated, with brushes and sponges, always by a highly accomplished, individual artist) pieces or non-Unikat (hand-decorated, but by various artists, and unsigned) pieces may be answered by your budget or personal preference. Unikat pieces will always cost more than non-Unikat pieces, so it's up to you to decide whether you want: one exceptional piece, for example, or two or three (or more) lovely but less exceptional pieces. I have both: Unikat for display and for very special occasions, non-Unikat for everyday use. I do keep a 12-ounce bubble mug in a favorite (and admittedly pricey) high-end Unikat pattern (U1123 Ceramika Artystyczna, Polmedia P1990A) for my morning coffee.
Polish Pottery was made to be used. And that means – for the brave ones among us — Unikat on the deck for morning coffee.
What to buy or not buy is obviously a matter of personal preference. Choices abound, especially when it comes to novelty or special-interest patterns.
There are cat patterns…
Ceramika Artystyczna  1771X, Polmedia P6131A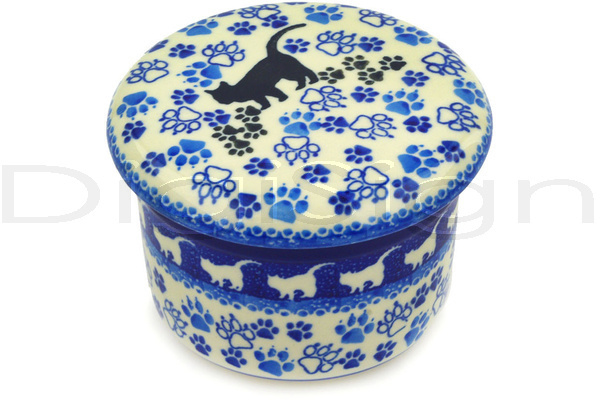 Ceramika Artystyczna 1771 , Polmedia  P6226A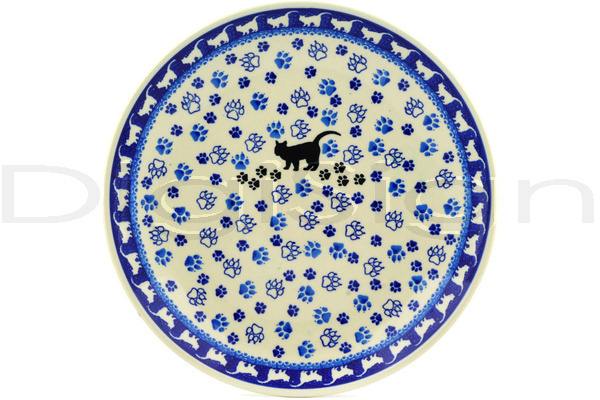 …camel patterns…
Zaklady 842AK, Polmedia P5055A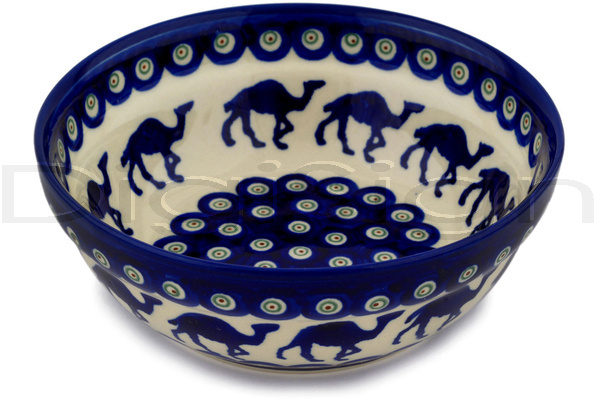 …horse patterns…
Ceramika Artystyczna 1143X, Polmedia P3994A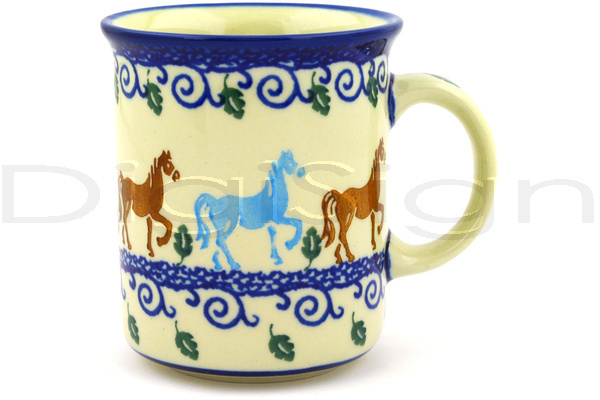 …and, of course a long, long list of animal and character figurines.
As time passes we'll cover these topics in greater detail. But for now, I'll offer three suggestions for building a successful collection:
1. Learn all you can. As always, an informed consumer is a happy one. Browse the internet thoroughly, bookmarking sites to which you'll want to return when you're ready to buy. Keep notes. I maintain two separate digital files, one for tracking details of purchases (with copies to our insurance company) and the other for recording what I want to remember about artists, factories, vendors, and the business/hobby in general.)
2. If you love it, buy it. Don't worry about whether or not a piece will "match" the rest of your collection. Chances are it will: Polish Pottery was made for "mix and match." It plays well with others. If a piece doesn't seem to fit, no matter: Display it solo or tuck it away to enjoy some rainy afternoon when it's just you and your odd little item and a warm pot of tea.
3. Find a friend (or friends) to share the fun. On line or off, everything's better with friends.
Next month: When To Buy
Dorothy Rosa Durkee is an independent writer, retired magazine editor, and former military wife with a passion for collecting Polish Pottery. When not dusting or rearranging her collection, she spends her time volunteering in local schools and working in animal rescue.