Planning on grilling some sausages? This traditional Polish potato salad with dill pickles is the perfect accompaniment to any barbeque!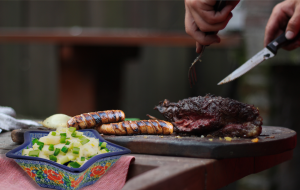 Sałatka Ziemniaczana, a cold salad from the Silesian region, can be assembled quickly with leftover potatoes (and easily modified for vegetarians).   Mix it in advance, cool it in the refrigerator, then serve it when ready in a star-shaped or Americana-themed piece of Polish pottery, perfect for Memorial Day or 4th of July barbecues…
Ingredients
2 lbs. potatoes (5 – 6 medium), cut into 3/4-inch chunks

1/2 medium onion, chopped

8 hard-cooked eggs, chopped 

5 dill pickles, diced (I use Claussen pickles because they are always crunchy and garlicky)

2 Tbsp. water from the pickles
3 Tbsp. chopped parsley or chives

1/2 cup mayonnaise

1/2 cup sour cream

1/2 tsp. salt

1/4 tsp. ground black pepper

1 tsp. apple cider vinegar and/or mustard, for an added tangy flavor
Preparation
1. Put washed potatoes with the skin in a 4-quart pot; cover them with water (about 2 quarts) and bring to a boil over medium-high heat. Reduce heat to low and simmer until potatoes are tender, about 15 minutes. Drain and cool. Peel the skin off and dice.
2. In a large bowl combine mayonnaise, sour cream, water from the pickles, salt, and pepper. Add potatoes, onion, pickles, and eggs, and mix well. Garnish with chopped parsley or chives. 
This tangy recipe is a perfectly refreshing and hearty addition to any summer get-together!  If you choose to serve your salad in authentic Polish pottery stoneware, you can pre-chill it inside the serving bowl and the stonelike properties of the dish will keep your salad cold for longer.  But we know this traditional Polish salad is so good, it's sure to be eaten long before your dish reaches room temperature ; )