1 tablespoon olive oil
8 ounces mushrooms, sliced
1 medium onion, sliced
3 cloves garlic, minced
1 1/2 cup tomato sauce (tomato/basil, tomato/garlic anything that I can find in my pantry but I don't like using pizza sauce)
6 ounces shredded mozzarella cheese (about 1 1/2 cup)
1/4 cup grated Parmesan cheese
fresh basil leaves (whole or thinly sliced)
Dough:
2 cups all purpose flour
3/4 caps of warm water (not hot, hot water kills the yeast)
2 tablespoons olive oil
1 teaspoon yeast
1 teaspoon sugar
1/2 teaspoon salt
Extra 2 tablespoons olive oil for greasing 🙂
Preparation:
Combine the water, olive oil, flour, sugar, yeast and salt in the bowl of a stand mixer and combine (I use a bread-maker but back in Poland I used my hands :)). If the dough is too sticky, add more flour, ~1 tablespoon or so, until the dough comes together in a solid ball. If the dough is too dry, add more water, approximately 1 tablespoon (or more ;)).
Grease a large bowl with olive oil and move the dough, cover the bowl with a clean kitchen towel or plastic wrap and put it in a warm area to let it double in size, about 1-2 hours. I put it on top on my stove while I am preheating the oven ;). Divide the dough into 2 equal pieces either in the bowl or move it onto a lightly floured surface. Cover each with a clean kitchen towel or plastic wrap and let them rest for 10 minutes.
Wash and slice mushroom. Peel onions and garlic. Dice onions and mince garlic.  Heat 2 tablespoons of olive oil in a skillet over a medium heat. Add the mushrooms and onions and cook until tender and most of the mushroom juice evaporates, about 8-10 minutes. Add the garlic, salt, and pepper to taste cook for another 2 minutes and remove from the heat.
Preheat your oven to 400F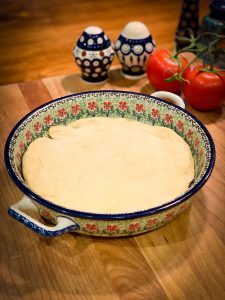 Last time I used two polish pottery 10″ round bakers with handles. So, again grease the baker with olive oil and flatten 1/2 of the dough in each baker (using hands is the best way), brush the dough with olive oil on the top. Bake it for 15 minutes and remove from the oven.
Spread the tomato sauce over the crust.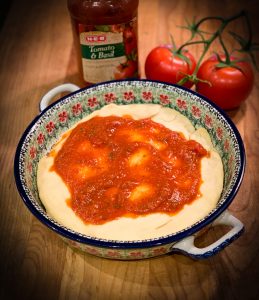 Top with the sautéed onions and mushrooms 🙂 (yummmm!!!).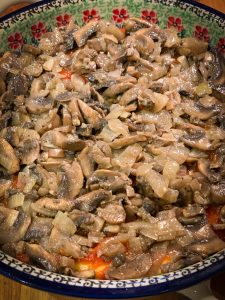 Sprinkle with the mozzarella and Parmesan cheeses (sometimes I skip Parmesan).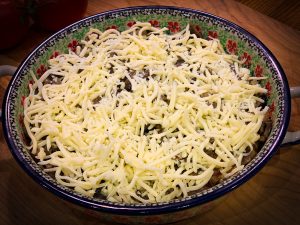 Bake until the cheese is nicely melted, about 10 minutes at 400F. Remove from the oven, sprinkle with basil, cut and enjoy :).
Smacznego 🙂