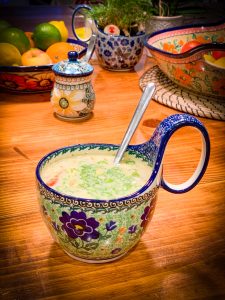 Ingredients
1 carrot (sliced)
1 large potato (or 2 medium) diced (approximately ½")
1 ½ lbs. broccoli
1 tsp. salt (less or more if your doctor allows :))
Ground black pepper to taste
2 bay leaves
1 chicken breast cut in ~1" cubes
1 1/2 – 2 quarts of water (or vegetable stock) it depends how thick you like the soup
1 Tbs. olive oil
1 red bell pepper diced
2 cups of sliced celery
1 medium onion diced
½ cup green onions chopped for garnish
To make the soup Polish style you need to thicken it with a mixture of 2 Tbs. flour and 2 Tbs. sour cream and ½ cup of water at the end. But you can totally omit that step. The soup will still taste great :).
To have a meatless version – skip the chicken breast :). It is so easy.
Preparation
Wash all vegetables. Peel potatoes and carrot. Cut potatoes in to ½" cubes and slice the carrot into thin discs. Trim broccoli, peel and chop stems and cut florets in 4. Cut chicken breast into ~1" cubes or smaller. In large pot, combine chicken breast, broccoli, carrot, potatoes, salt, black pepper, 2 bay leaves, and 1 ½ quarts water or vegetable stock. Bring to a boil, reduce heat, and simmer for 30 minutes.
Meanwhile, core and chop red bell pepper, dice onion, and slice celery. In a large skillet, heat 1 Tbs. of olive oil over medium-high heat. Add onion and cook, stirring often, until softened, about 5 minutes. Add celery, red bell pepper, and pinch of salt. Cook for another 10 minutes, stirring often. Remove from heat and add to pot with broccoli and the rest of the ingredients and simmer for another 20-30 minutes.
At the end in a quart size dish mix ½ cup of water, 2 Tbs. of sour cream and 2 Tbs. of flour. Ladle some hot liquid from the simmering soup and slowly add to sour cream and flour mix constantly mixing (I use a whisk). Add enough of the hot liquid to warmup the sour cream. Add the mixture to the pot constantly mixing and bring to a boil, reduce heat, and simmer for 5 more minutes.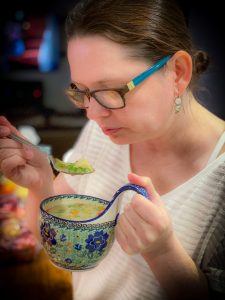 To serve, ladle broccoli soup into 6" serving bowls or beautiful loop handle bowls :). Garnish with chopped green onions, if desired.
Smacznego!!!