Pierogi (Polish plural for dumplings)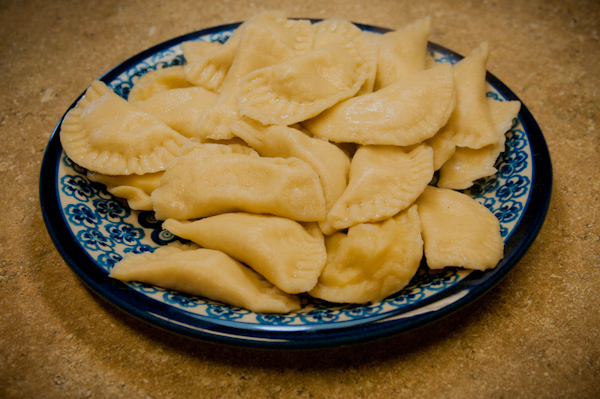 Dough:
3 cups all-purpose flour
1 large egg
1/2 teaspoon salt
1 cup warm water
In a medium bowl mix water, salt, and egg then add flour. Turn the dough onto floured surface, the best place will be your countertop, and knead for about 10-12 min adding flour or water if necessary. The pierogi's dough should be firm and smooth, and not stick to your hand or the counter.
Divide your dough in half and form balls. You will work with one part for some time so cover the remaining part with plastic wrap to prevent drying.
On a floured counter roll one ball to about 1/8 to 1/16 inch thick.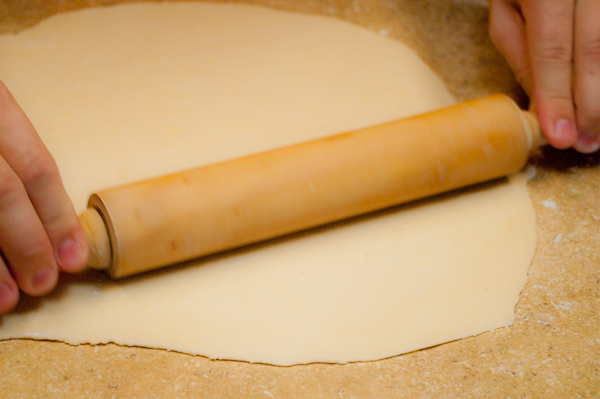 Cut circles with a glass or some other circular shaped dish. The diameter should be approximately 3-4 inches.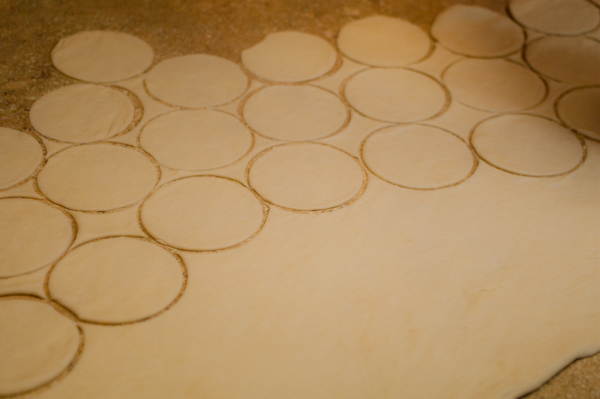 Filling:
1 1/2 pound of good quality, low fat ground pork
1 large egg
2 tablespoons of bread crumbs
1 medium onion, finely chopped
salt and pepper to taste
In a large bowl mix all ingredients with your hand till smooth.
Hold one circle in your non-dominant hand and place a heaping teaspoon of filling into the center then fold it in half.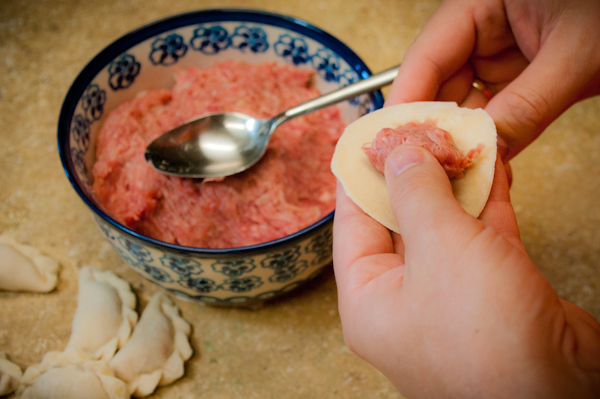 Next press the edges tightly together making sure the filling does not touch the edges. This will allow sealing each pierog (Polish singular for dumpling) perfectly.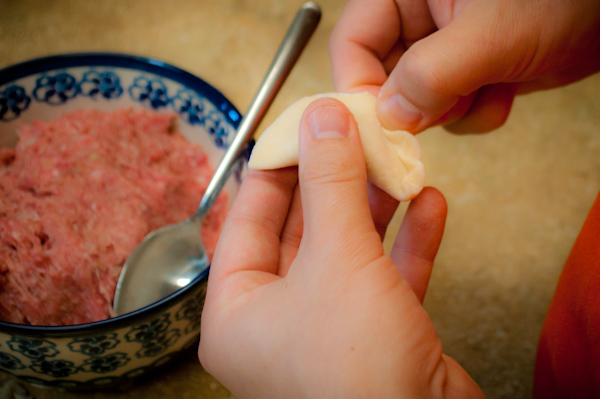 In a large pot boil water (about 4 Qt) with 1/2 to 1 teaspoon of salt and add the pierogi one by one. Cook them in batches of 8 to 10 at a time for about 12 minutes or until cooked through. Take them out carefully with a slotted spoon and allow to drain for a few seconds.
Serve fresh with fried onions, fried bacon or sour cream, or saute in butter or vegetable oil until lightly brown.