Żurek, a sour rye soup, is one of the most popular dishes in Poland and has been enjoyed for centuries. Żurek is a thick, tangy soup made with fermented rye flour and vegetables, and is often served with boiled potatoes. It's a traditional Polish dish that is served at many family gatherings, celebrations, and holidays. The unique flavor of this dish is a true testament to the history and culture of Poland.
Introduction to Żurek – The Tangy Taste of Polish Cuisine
Żurek, or Polish Sour Rye Soup, is a traditional Polish dish with a long and rich history. The unique, tangy flavor of this soup is a favorite among Poles and other Eastern Europeans. It's a hearty dish that is perfect for cold winter days and can be served both hot or cold.  Served in many restaurants and cafés in thick Polish stoneware soup bowls, it's a soup that is enjoyed by many and is often served with a boiled egg and sausage on the side. Served in a floral Polish pottery tureen, it makes the perfect accompaniment to an Easter brunch or Springtime get-together.
History of Żurek
Żurek has been enjoyed in Poland for centuries and is a true testament to the culture of Poland that has endured over time. The origin of the recipe is a bit of a mystery, but it is believed to have been created during the Middle Ages. During this period, Poland was known for its abundance of rye and other grains, so it's likely that the soup was first created to make use of these ingredients. The popularity of Żurek continued to grow throughout time and it eventually became a staple of Polish cuisine. The soup was commonly served during family gatherings and celebrations, and it has since become a beloved dish for Poles all over the world.  The hearty recipe below adds sausage, which adds a bit of smokiness to the flavor.
How to Make Polish Sour Rye Soup
Ingredients:
1 pound of smoked sausage, sliced
1 onion, chopped
1 garlic clove, minced
2 bay leaves
8 cups of water
2 cups of sourdough rye flour
1 cup of sour cream
2 hard-boiled eggs, chopped
Salt and pepper to taste
Instructions:
1. In a large pot, cook the sausage over medium heat until browned. Remove the sausage from the pot and set it aside.
2. In the same pot, sauté the onion and garlic until they are softened.
3. Add the bay leaves and 6 cups of water to the pot, then bring to a boil. Reduce the heat and simmer for 10-15 minutes.
4. In a separate bowl, whisk together 2 cups of sourdough rye flour and 2 cups of water until smooth.
5. Slowly add the rye flour mixture to the soup, whisking constantly to prevent lumps from forming. Simmer for another 10-15 minutes, stirring occasionally.
6. Add the cooked sausage back to the pot, along with salt and pepper to taste. Simmer for another 5 minutes.
7. Remove the bay leaves from the pot and stir in the sour cream. Cook for an additional 2-3 minutes.
8. Serve the soup hot, garnished with chopped hard-boiled eggs.
Variations of Żurek and Ingredient Substitutions
Żurek is a versatile dish that can be modified and served with a variety of ingredients.  Hearty elements can be easily added to make it a stand-alone meal, such as boiled potatoes, a boiled egg, or sausage and it can be made with other types of meat, like bacon or ham. It can also be served with a variety of vegetables, such as mushrooms, cabbage, and zucchini, or with other types of grains, like wheat, barley, or oats. These changes create a different flavor, but the result can still be deliciously satisfying.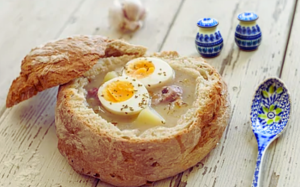 Żurek Serving Suggestions
Żurek is best served hot, but it can also be enjoyed cold.  Try a bread bowl, like in the picture above, or try serving in some authentic Polish Pottery.  The lovely Polish stoneware will retain the temperature of your dish, and complements this rustic soup well with a variety of shapes, including soup tureens for serving to a crowd to loop-handled mugs and bouillon cups with lids.
Żurek works well as a starter or as a main course. It's also a great side dish for a variety of meals, such as roasted chicken or pork, or enjoyed as a snack or light lunch. To garnish, sour cream or croutons are a good choice to compliment its tangy flavor.  However it's served, Żurek is a hearty and delicious dish that is sure to please everyone.
We hope you'll try it soon and come back to our website for new recipes that are sure to satisfy!  Click here to subscribe to our emails for further updates to our blog and visit www.artisanimports.com today to view more of the Polish Pottery showcased in these pictures.