The Vodka Sunrise, a spin on a traditional breakfast cocktail, is a beautiful and simple drink that looks lovely in any glassware. Pair it all with some bright Polish Pottery wine glasses, and it's perfect for special occasions.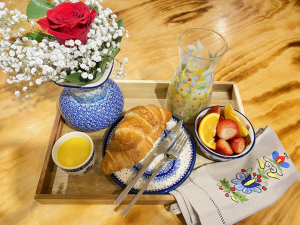 Ingredients
To make a Vodka Sunrise, you will need the following ingredients:
2 oz vodka (we prefer Polish vodka, click here for a previous post)
4 oz orange juice
1 oz grenadine
Ice
Orange slice and cherry for garnish (optional)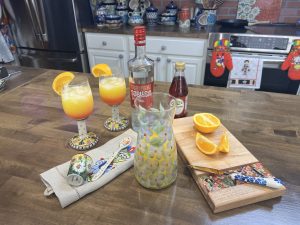 Preparation
Fill a tall clear wine glass or tall tumbler with ice.
Measure with a 2 oz. shot glass and add the vodka and orange juice to the glass. Stir to combine.
Slowly pour the grenadine into the glass, allowing it to sink to the bottom, creating a "gradient" look in your glass.
Garnish with an orange slice and cherry, if desired.
Variations
While the classic recipe for the Vodka Sunrise is delicious on its own, there are a few variations you can try to mix things up. Here are some ideas to get you started:
Substitute grapefruit or pineapple juice for the orange juice for a unique twist on the classic recipe.
Use a flavored vodka, such as citrus or raspberry, to add extra depth to the drink.
Add a splash of soda water for a fizzy twist.
The Vodka Sunrise best accompanies light fare, such as croissants on a dessert plate, quiche served from a beautiful pie dish, or berries in a bowl.  To add even more color to a colorful breakfast tray, pour some extra orange juice in a floral glass carafe as a reminder of your last tropical vacation!  Cheers!