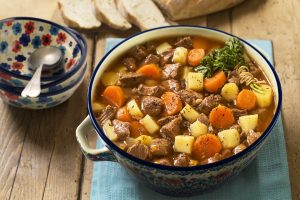 Beef Stew:  The perfect recipe to relax and enjoy the warmth of the Holidays
Growing up, our family traditionally had what we excitedly liked to call "a smorgasbord" when we gathered for the holidays.  Most people would simply call it a buffet-style meal, but we liked to pretend it was fancy and something about it contributed to an overall feeling of abundance.  In fact, it actually did seem fancy because of some of the uncommon ingredients that were at the heart of the main dish:  beef stew.  The recipe we're posting today calls for leeks and red currant jelly, which gives the broth of this stew a little more distinctive flavor and smoothness.
Beef stew is a great old-world comfort food, perfect to serve a large group without the need of the chef running to and from the kitchen to serve the dish perfectly (if you make a great meal, you should be able to relax and enjoy the food and company as well, right?).  It's hearty, flavorful, and when you have the right recipe, you can imagine you're at a quaint little pub in Europe somewhere, delighting in a dish that's been perfected over time by a chef who "really knows their stuff."  It's warm and can make you feel whole, especially when you're surrounded by the folks who know you best.  Isn't that how we'd all like to feel at the end of the year?
The following recipe can be prepared a day in advance and reheated, or cooked slowly on the day you wish to serve it, letting you multitask while cooking it.  It's the perfect slow cooker recipe, as the flavor becomes more rich the longer it's cooked.  However, if you want to retain the texture of the vegetables, it's best to put them in after you feel your meat has tenderized to your liking.  Our family cooked this in a large seasoned cast iron pot, and then it was the last to be set on the table – safely on a trivet – in a large festive soup tureen with a lid.  The stew was the only hot dish on the table, and was usually accompanied by a charcuterie board of cheese and crackers, gherkin pickles, black olives, and salami, along with a festive platter of holiday cookies we couldn't wait to get to.  If we were really trying to be extravagant, some extra leeks were put to use in a silky, chilled, leek and potato cream soup.  The star of our "smorgasbord", though, was always the rich, steamy, beef stew which we ladled into heavy soup bowls or mugs, eventually finding seats together around the Christmas tree and enjoying the warmth of the meal and the family banter.
I hope your group finds this stew to be a comforting, casual dish that is enjoyable to prepare and delicious to eat.  Especially if you're flustered with the pressure of hosting a large gathering, this recipe is a good one to rely on, being hard to mess up and resulting in a great-tasting dish every time (whether you improvise a little or follow the recipe to a T).  The aroma from your kitchen is sure to be inviting, and your guests will feel welcomed and nourished with this stew at the center of your table.
Beef Stew (serves 6-8)
½ pound bacon, cut into 1" pieces
1 pound cubed beef for stew
5 leeks, white ends only (may substitute 10 green onions), sliced into thin shreds
6 parsnips, peeled and sliced into bite-sized pieces
6 carrots, peeled and sliced into bite-sized pieces
2 Tablespoons salted butter
2 cups beef broth
2 Tablespoons red currant jelly
2 teaspoons dried thyme
8 cloves of garlic, minced
1 16-ounce can of crushed tomatoes
8 new potatoes
Fresh parsley, to garnish
Dollop of sour cream, to garnish
[optional]  For an even heartier dish, serve the stew over:
Egg noodles, cooked to al dente
Directions:
Fry bacon pieces in a skillet pan in extra virgin olive oil, then remove from heat and place bacon pieces in heavy casserole, pot, or slow cooker, keeping the remaining oil in the pan.
Next, sear pieces of beef in remaining oil, browning the sides.  Avoid crowding the pan as you sear the beef – you may have to do this in batches, depending on the size of your pan.  Add cooked beef to the pot with the bacon, retaining the oil in the pan for use in caramelizing the vegetables.  Add beef broth, red currant jelly, thyme, garlic, and crushed tomatoes to the pot with the meat and simmer over low heat for at least an hour.
Boil new potatoes, drain, and set aside to come to room temperature.
Add leeks, parsnips, and carrots to the skillet, adding more oil if needed, as well as 2 tablespoons of sugar if the vegetables need help caramelizing.  Once these have softened and before leeks start to brown, let vegetables cool in pan.
Cut potatoes into bite-sized pieces.  Once the meat has started to become fork-tender, add caramelized vegetables and potatoes to stew.  Continue cooking over low heat about 15 minutes more, stirring to evenly incorporate the all the flavors.  Add a ½ cup of water, as needed, if broth has evaporated too much, and salt to taste after about 10 minutes.
While the stew finishes simmering, boil water over high heat and cook egg noodles, draining when cooked to al dente.
Add a portion of egg noodles to a soup mug or bowl, and ladle hot stew over the top.  Garnish with parsley and a dollop of sour cream.