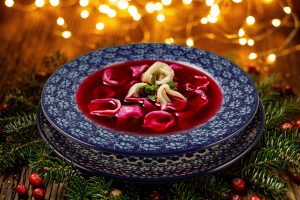 Polish Christmas Beetroot Broth with Mushroom Dumplings Recipe
Ingredients:
For the beetroot broth:
1 large beetroot, peeled and diced
2 medium-sized carrots, peeled and diced
2 medium-sized parsnips, peeled and diced
1 medium-sized onion, chopped
2 cloves of garlic, minced
4 cups vegetable or chicken stock
2 tbsp tomato paste
1 tsp dried thyme
Salt and pepper to taste
For the mushroom dumplings:
8 oz. fresh mushrooms, chopped
2 tbsp butter
1 medium-sized onion, chopped
2 cloves of garlic, minced
1 tbsp flour
1/2 cup milk
2 eggs
2 tbsp parsley, chopped
Salt and pepper to taste
Instructions:
To make the beetroot broth: In a large saucepan, heat some oil over medium heat. Add the onion, garlic, beetroot, carrots, and parsnips, and cook until the vegetables are softened, about 10 minutes.
Stir in the tomato paste and thyme, then pour in the stock. Bring the mixture to a boil, then reduce the heat and let it simmer for about 30 minutes.
Meanwhile, make the mushroom dumplings: In a pan, melt the butter and cook the onions and garlic until softened, about 5 minutes. Add the mushrooms and cook until they release their moisture, about 5 minutes more.
Stir in the flour, then slowly add the milk, stirring continuously until the mixture thickens. Remove from heat and let it cool for a few minutes.
In a separate bowl, beat the eggs with the parsley, salt, and pepper. Stir in the mushroom mixture.
Using a spoon or a cookie scoop, drop rounded spoonfuls of the mixture into the simmering broth. Cover the pan and let the dumplings cook for about 15 minutes, or until they are firm and cooked through.
Serve the beetroot broth with mushroom dumplings hot and enjoy your delicious Christmas dish!
Enjoy this traditional and flavorful Christmas dish with your loved ones this holiday season!